Toy runs hold a special place in the hearts of most motorcyclists. Most MCs, riding groups, LEO, and independents organize, support, or ride in at least once every holiday season. Toy runs are a central part of their holiday plans for most riders. Riders seek out these runs every year, and many participate in more than one.
Decorating The Motorcycle
Riders will often decorate their bikes with holiday ornaments and pile toys onto different bike areas to create a spectacle unmatched by any other vehicular charity run. No matter the weather conditions, most riders will venture out in the rain, cold, heat, wind, fog, and sometimes even snow to participate in these events. Some riders who ride only a few times a year will often make a toy run as one of the times they break their bike out and hit the road.
A Listing Of Long-Running Toy Runs
If you Google the history of motorcycle toy runs, you will be completely disappointed. There isn't much information on where, how, and when these events began. You can piece together some historical facts from toy runs that have been long-running, like Barnett Harley Davidson in El Paso, TX, which has been running every year for 35 years. That would put them at 1982 for their first toy run.
The City of Bartlesville, OK, has been running a motorcycle toy run for 30 years, so 1987 was their first. This year, a Righteous Ride-V-Twin Motors has its 30th toy run in Greeley, Colorado. The Ventura, CA HOG Chapter has been going on for 30 years. The Santa Barbara Toy Run has been going on for 30 years. MMA (Modified Motorcycle Association of California) has been running toy runs for an impressive 38 years.
The Oldest Documented Toy Run
Possibly one of the oldest documented toy runs would be the Smokey Mountain Toy Run which was begun by Jerry Slagle and 11 of his buddies to change the perception people had of motorcyclists. This was the beginning of their 38 years of toy runs. On December 20, 1981, 12 bikes and about 30 people met at the Executive Club on US Hwy 70 in Swannanoa for the first Toy Run. The weather was 20 degrees as this hardy group of elves packed up and headed to Santa Pal Headquarters, bearing gifts and money. Their success energized the Toy Run founders and immediately set out to involve more helpers to ensure the event's growth. More about the Smokey Mountain Toy run can be found by following this link: Smokey Mountain Toy Run History.
The Purpose Of Toy Runs
From what I could find searching online, motorcycle toy runs were started in America around the early 1980s. The idea quickly spread and was adopted throughout other parts of the world. They all have the same theme of "We Ride for the Kids" as their foundation of purpose for existence. Thousands of toys are gathered between these runs and given to those in need. A family that cannot purchase toys for their kids, and kids that wouldn't get toys if it weren't for these runs. It can be a calming of the conscience to donate these gifts and be part of a national motorcycling tradition that began almost 40 years ago.
Entry Fees
Many long-standing toy runs will have an entry fee and require an unwrapped toy. The long-standing runs might cost the rider a little more, but they often come with a hefty meal, music, and a patch or pin to commemorate the ride. Some of the newer toy runs cost very little but still offer the experience of giving in the spirit of Christmas and the camaraderie of the biker community.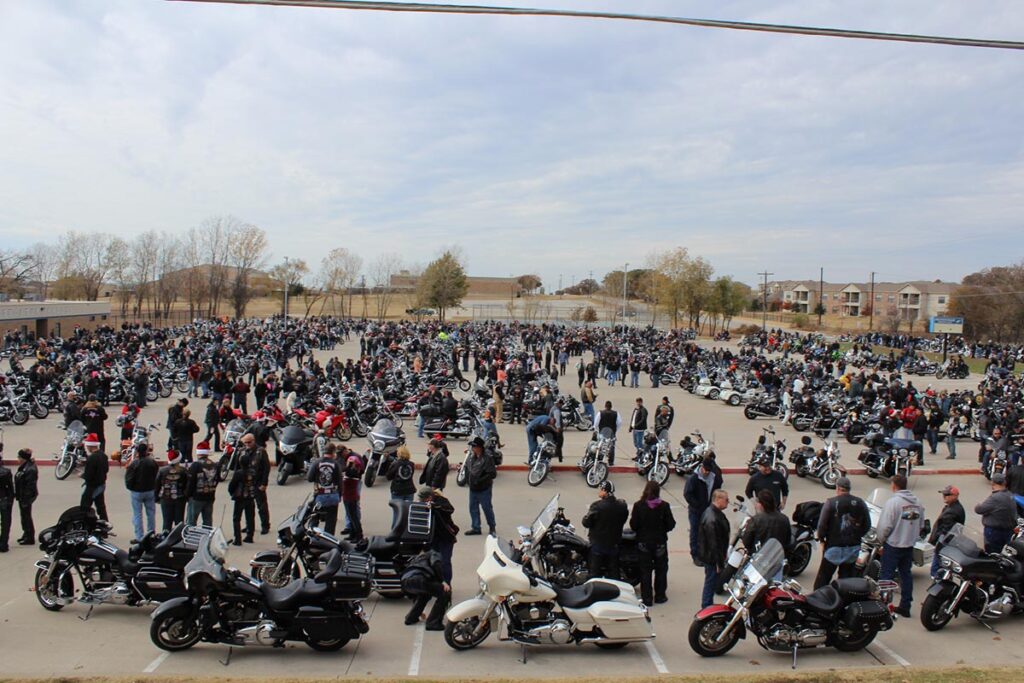 The Experience Of Riding In A Toy Run
All of them offer the experience of masses of motorcycles riding in parade style, which fixates the onlooker's attention on the long double wide stacking of bikes that span further than the eye can see. Added to the visual spectacle is the deep-toned rumble from the exhaust that echoes through your chest as the parade of bikes rolls past. These scenes move the emotions and excite most non-riders just as much as the riders. Onlookers will pull out their phones to take snapshots and video clips to show their friends and family. It's a scene rarely seen outside of the Christmas holidays and is greatly anticipated in many areas across America.
Wise County Toy Run In Texas
I participated in two toy runs this year. The Wise County Toy Run has been running for 18 years and is a local favorite. The ride begins in Decatur, TX, and runs 11 miles to Bridgeport, TX, where the toy drop point occurs. Locals will tailgate along the route to take pictures, video, wave, and enjoy the event as it rumbles past. Bikers will often throw candy to the kids from their bikes. In 2013 there were so many bikes that by the time the lead rider (Santa Claus) arrived in Bridgeport, the last riders in Decatur were just leaving the staging area. That was 13 miles of motorcycles. The end of the run offers free chili, singing of the Star-Spangled Banner, raffles, live music, gear vendors, and various motorcycle show contests.
HOG Toy Run North Texas
The other toy run I participated in was a first-year toy run, the Jeff Kyle Toy Run. This run supported the Chris Kyle Memorial Benefit to provide toys to those in need. It was hosted by the Stampede HOG and Fort Worth HOG Chapters. The ride began at Stampede Harley Davidson and ended at Fort Worth Harley Davidson, 21 miles away. It was police escorted and had a fantastic turnout with just over 300 bikes for its first year. If this toy run continues in the years to come, I can see it easily becoming a North Texas favorite. It was very well organized and had strong backing from the Chris Kyle Memorial Benefit.
Ride Strong Wrench Proud