For many years Margaret and I have wanted to see some of America's Colonial and Civil War history areas in the Northeast. We knew there was far too much to see in one trip, so we chose specific areas that were major turning points in American history. After researching some destination options, we finally decided on Jamestown, Williamsburg, Yorktown, Richmond, VA, and Washington, DC. We knew it would be a lot to cover, but it would make a great trip on our iron horses!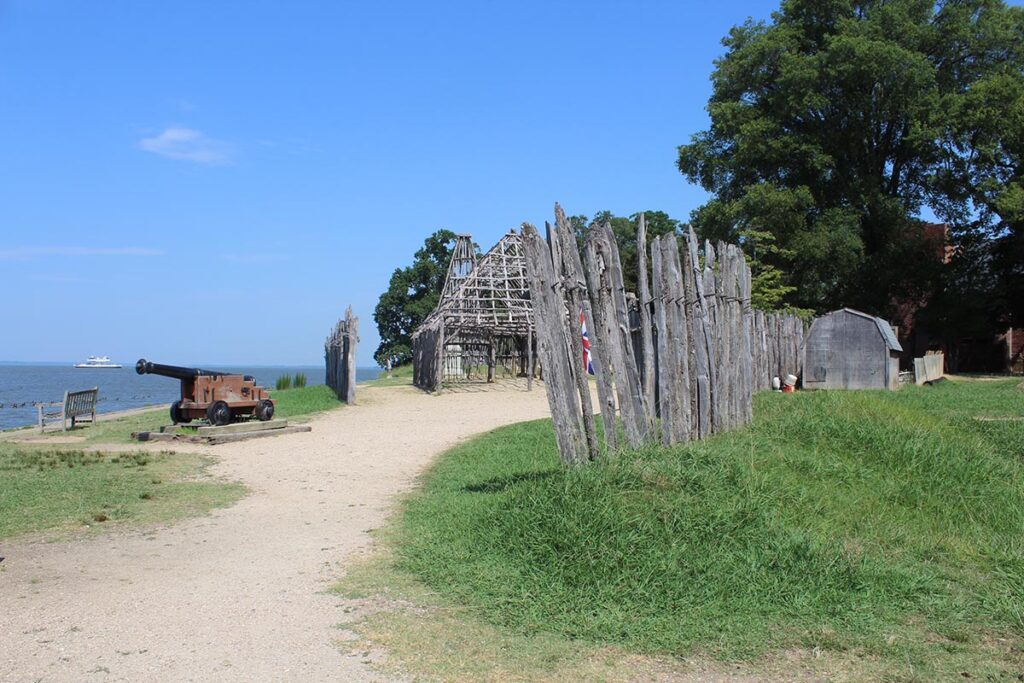 Jamestown, VA
Jamestown was the site of the first permanent English colony to settle the Americas in 1607. Archaeologists recently uncovered the original site of the settlement and are unearthing artifacts daily in their digs. They were working as we visited the site. A comprehensive museum was built to house the historical artifacts and provide information on how the early settlers lived.
Yorktown, VA
Yorktown was the site of the final decisive battle of the American Revolution. The battle site is marked, and details of the battle through a tour are available along with the firing of a powder cannon.
Williamsburg, VA
Williamsburg was the site where the first established government was moved to. There is an entire city of original restored colonial homes, workshops, gardens, courthouse, governor's mansion, and artisans. The townsfolk wear the attire of the time period and practice their trades in the same manner as was done in the 1600 and 1700s. It took two full days to tour this remarkable city and experience all it offered. Re-enactments of political views, civil protests, and musket and cannon shootings took place throughout the day.
Richmond, VA
Richmond is the current capital of Virginia and is the home to the Civil War Museum- The White House, the Museum of the Confederacy, The Tredegar Civil War Museum, and the Historic Tedger Ironworks that played a vital role during the Civil War.
Washington, DC
Washington, DC being our nation's capital, was a necessity for the trip and was an unforgettable experience that everyone should see at least once in their life.
Our Longest Ride
This was the longest of our rides, which took us 4200 miles across nine states. Because we knew there was so much to see, we took three weeks to make the ride. We actually only rode 12 days on the trip. An entire week was spent in Washington, where we took public transportation to get around. Three weeks wasn't enough time because of the incredible amount of American history to visit.
Some Of The Incredible Riding Areas
We had some great riding experiences throughout the trip. The Tail of the Dragon was fun. The Diamondback Motorcycle route is a better ride if you want curves and corners. While riding Skyline Drive, we encountered bears crossing the road multiple times. The Chesapeake Bay Bridge-Tunnel was quite a ride. 17 miles of bridge and tunnel took us across the Chesapeake Bay with a stop in the middle for great viewing. The Blue Ridge Parkway provided some of the most beautiful scenic views you could ever want to see.
We were able to complete it almost rain-free, only getting drenched one time on the 3-day ride. We were able to spend time at the Craggy Gardens on the Blue Ridge this time. The Cherohala Skyway was a mess. There was quite a bit of road construction going on. Mowing and trimming took place, and the road was covered deep in grass clippings and branches. A strong storm hit while we were on it, making the grass over the road slippery. It rained so hard that we had to pull over and stand in the rain until it died down a bit because we couldn't see the road to ride.
Alternate Route Home
We didn't take our planned route home after the Cherohala Skyway due to storms. We just let storm fronts drive us where they would to stay dry. This took us 100 miles from Mobile, Al, and then took some scenic byways west. It turned out to be great riding, and we got to see some small-town areas of Alabama, Mississippi, and Louisiana that were far from the main roads.
The Harley's Did Great
Both bikes ran flawlessly the entire 4200 miles. We only had two issues on the ride, which we could resolve quite easily. Margaret's tour pack straps stretched, and the pack came loose and started to slip off the bike. We stopped at a Petro and purchased some tie-downs, which worked better than the straps that came with the touring pack.
In Yorktown, VA, one of her passing lamp bulbs went out. Yorktown Harley Davidson Dealership was nearby, and we purchased a bulb and changed it in the parking lot. We topped off the oil on the bikes one time midway on the trip, using only half a quart between them. On the Blue Ridge, a mother dear crossed in front of me. Her baby got confused and jumped in front of Margaret. Everyone handled the situation, and both the deer and Margaret were unscathed.
Remembering Some Wonderful People We Met
We met some wonderful people as well. The people of Virginia and Washington, DC, were notably friendly. They made you feel welcome and comfortable. Two people in particular we met I want to mention, Jay in Richmond, VA, and Keith in Washington, DC. Both are fellow riders, and it was wonderful to meet them. Thank you both for welcoming and taking the time to talk with us.
Places We Dined
There were a couple of notable places we ate at as well. We stopped in Memphis, TN, on our first day. Memphis is known for its dry-rubbed ribs, so we ate that evening at Corky's BBQ, where we got the most tasteful ribs I've ever eaten. In Knoxville, TN, we spent the evening at the Smokey Mountain Brewery, where I had some great local brew. I'm a die-hard Shiner Bock fan, but they had one beer called the Black Bear Ale. I loved it so much I would probably drink over Shiner. I looked for it upon our return home but haven't had any luck finding it.
In Washington, DC, we found Extreme Pizza and couldn't get enough of their good food. We ate there three of the five nights we stayed, having pizza, salad, and sandwiches, all of which were extraordinarily good. The Protein Bar was a great lunch place in Washington, DC, where we were able to find vegetarian meals and smoothies. They tasted good and input natural vitamins back into our bodies.
I also tried to compile some videos as we went along the ride. The idea was to upload content every couple of days. Doing so would allow viewers to follow us on the trip. We took a laptop to do this, but I failed to complete the attempt on the last parts of the trip. The days were long, and we did a LOT of walking in Washington, so by the time we returned to our hotel, I was just too tired to spend a couple of hours trying to go through clips and put a video together.
Complete List Of Videos From The Adventure
Ride Strong Wrench Proud