As I was organizing blog categories recently I began thinking this is a lot of work and time spent. When I first started the blog I didn't even know what direction to take it. I had never done a blog. I just sat there with my fingers on the keyboard wondering what the hell should I type? It wasn't easy. For a week I would start something, erase it, start over, erase it, completely confused about what to write about.
One day Margaret was watching me sit there staring at the blank blog canvas. She said, "You know you can add pictures too." GREAT, I wasn't even writing anything let alone considering uploading pictures. More confusion, thanks. I was lost. Then Margaret mentioned the FWHOG Chapter was having a ride on the weekend and I should take pictures and write about it. Great idea! And that was the first post and how it all got started.
Looking Back
Looking back now at that first post, Going to the Gap Ride, I see how much the blog has changed. It used to be limited to a few pictures and a short dry write-up of the ride. Over time I added videos, slideshows, and write-ups dealing with a variety of riding-related subjects. What first used to be focused only on Chapter rides now expands out to anything riding-related that I want to write about.
Personal Difficulties Writing Posts
Writing was and still is the most difficult challenge for me in putting together a blog post. It's gotten easier but I still struggle. I am not a writer and I don't have an extended vocabulary to express myself as a writer does. My posts can be pretty boring sometimes. It's still important for me to write in hopes that someone will find something enjoyable in each post. I spend HOURS writing posts, reading, editing, re-reading, deleting, and starting over. My goal is to write something that provides enough interest to keep people coming back. For us, the blog is a digital archive of our history of riding since I first began posting. For readers, my hope is they can relate, laugh, learn, and get a bit of entertainment once a week from a quick read, photos, and occasional video.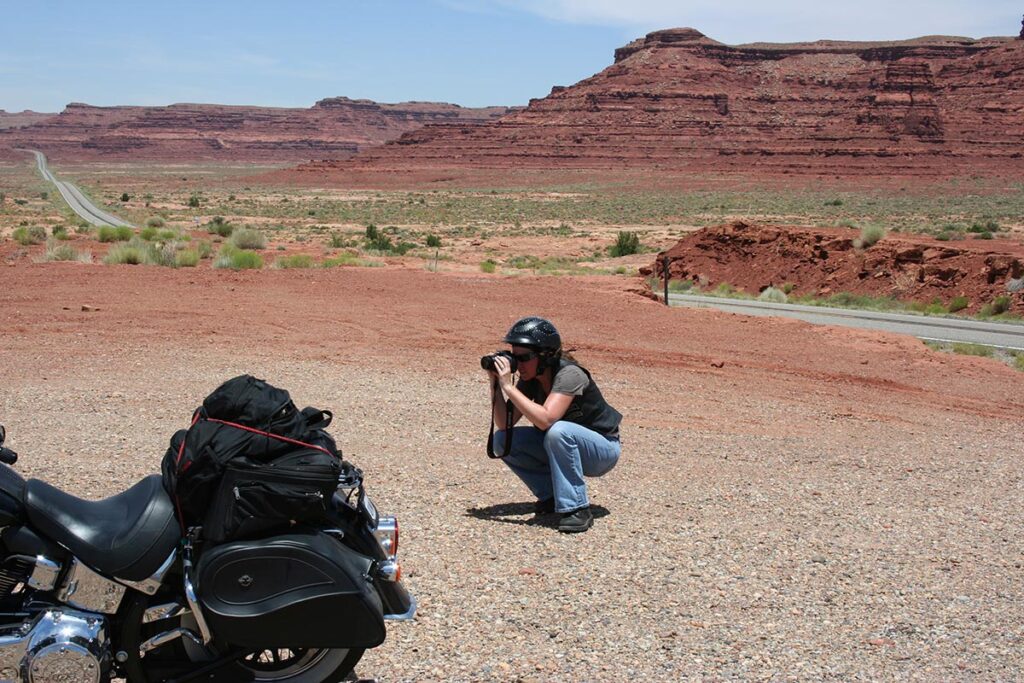 Pictures In Media
Taking pictures is not easy. Before snapping shots I often have to determine camera settings such as the aperture value, ISO, time value, shutter speed, and white balance. I rarely use full auto on my camera preferring instead to manually set up the camera for shooting. I almost never post pictures that have been "cleaned" to look better with picture editing software. What you see is what was taken. I do occasionally add some weird effects to them just playing around but I prefer a clean picture that hopefully captures the moment.
Expenses For Taking Pictures
There is some work involved just to add picture media. It takes time and it takes money. The time factor involves taking pictures when others are having fun, downloading them, and sorting through them. The money factor comes in when I have to buy digital storage cards for the camera and keep purchasing hard drives for space to store them. The higher the resolution, the more megs/gigs it takes of storage space. I also have to pay once a year to have the digital sensor in the camera cleaned. And of course the cost of the camera itself with the accessories. We actually have 2 cameras we use, an older Canon Rebel EOS XT and a newer Canon Rebel 3Ti that Margaret won on some blog surveys.
Video Difficulties
Another difficulty is the video. Until I got the GoPro I had never owned a video camera. I work for hours on every video that gets posted. Trying to figure out what might make a good clip and tell a story is freaking difficult. While riding trying to figure out what will best portray the scenery and ride is even more difficult. What the eye sees doesn't always show the same when the clip is downloaded to the computer for editing. The feelings invoked from the ride don't always transmit through that camera's eye onto the screen.
I struggle hard with this. I've gotten better from when I used to mount the camera in a stationary position on the engine guard. Now I just hold the camera and point it at whatever I think might be a good clip. I get smoother cleaner video and more variety of subject matter doing it this way. I keep 6-32 gigabyte memory cards just for the GoPro. Those are not cheap but I need to be sure to have enough video storage. In order to do anything with all the media, I have a computer which I have to keep running and updated.
Software Used
I use Photoshop Pro for the pictures and to make graphics used for the blog header, background, and the headers used at the start of each video. I used to use Sony Movie Studio 13 Platinum for creating the video. Now we have a monthly subscription to Adobe that gives access to the entire suite. My videos used to be on Vimeo which I paid a yearly fee for. Now everything is on YouTube. All of this incurs cost and time.
Labor Of Love
I know this was a long post. I just thought it might be interesting to go through the details of what it takes to make a weekly post. There are many hours of work to create the typical post and even more, if a video is involved, and costs associated with each step. And all of this is done between my full-time job and riding time. I guess it's become one of those labor of love things for me. It's fun and frustrating all together but the end result is something for everyone to hopefully enjoy.
Ride Strong Wrench Proud