The name Doyle Smith will not mean anything to most people reading this post. To me though, that name means everything. Doyle Smith was my Father, the man who brought me into the world and raised me as a single parent. Doyle was the man that instilled morality, ethics, virtue, pride, righteousness, and integrity into my moral fabric of being. He was hard, and I dare say, often times unloving in his approach at raising me. He was however for the most part, fair.
Doyle Smith passed from this world on Sunday 11/29/2020 at 1:20 AM. I was blessed and honored to have been at his bedside for all of the last 3 days before he died. Those private moments with him were very precious to me and it has been difficult for me to come back to a place mentally of something you might refer to as normal. My emotions have been overwhelmed, my guilt has been tried, and my love for him has been harshly revealed.
To summarize his life is actually quite straightforward. He was a simple man and set in the pathways he chose to perfection. Going through memorabilia that I found and didn't even know existed, has opened even more understanding of the man I had often questioned. Why is it that in so many instances death is the revealing factor into another persons motivations or accomplishments during their life?
Who Was Doyle Smith?
Born in Kansas and raised in the damn near unknown small town of Downs, Kansas his future's only hope was directed towards farming. From what I have been able to construct based on documents and letters he sent home to his mother and family, the Army provided the means of escape from small town life. Doyle Smith served our country as a U.S. Army Special Forces Ranger for 6 years. He fought in the Korean war during his service. At the end of his 6 years in the Army he transferred to the U.S. Air Force and served 2 years in Vietnam as an electronic technician. Upon returning home he enrolled in College and in 3.5 years earned a dual Bachelor's degree in both Electronic Engineering and Business Management. At this point were getting into a timeframe that I can recall as life moved forward. He retired from General Dynamics as an Electronic Engineer on the F16 program after 24 years. During this time he and I lived and travelled the world which is where I grew into my late teens.
He Was A Rider
What I did not mention above was that he was also a motorcyclist. I don't know at what point after returning from Vietnam he began riding but he rode a Honda Gold Wing. He was also very involved in the HAM and CB communities and went by the handle of "Honda Hillbilly". Yea, he had a CB on the Goldwing. We were very close friends of another Smith family who's father Charlie also rode. They took every chance they could to get on the bikes and go somewhere. It didn't matter how far, it was just about riding. And when he rode, I was always with him.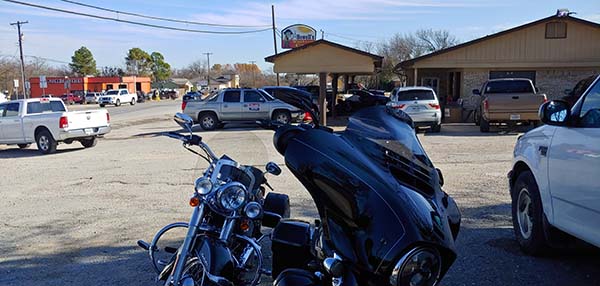 A Short History of the Memorial Ride
Until I was 12 years old we lived in Azle, TX. It was a small town just Northwest of Fort Worth, TX. A little further Northwest was another small town by the name of Springtown, TX. When he and Charlie Smith were itching to get on the bikes for a short ride, it was Springtown, TX they would go to. In the early 70's there wasn't much there for a reason to ride. There was however a small Cafe that still stands to this day named Howell's Western Cafe. The ride was never about the food. Even the atmosphere was somewhat bland. We would go there simply to have a reason to ride and get a cup of coffee and share in the embellishment of riding stories. This was a common ride and it didn't matter if it was cold, hot, raining, foggy, or whatever other condition you want to mention. Sometimes Charlie would call well into the evening asking Doyle to accompany him on a ride to Howell's. I loved it. Made for some nice evenings during the week when I knew school was inevitable the next day.
In Remembrance
Midweek Margaret and I were reminiscing about him and somehow at about the same moment came up with the idea to take a memorial ride to Howell's. We thought it would be a wonderful way to remember a part of his life that was such a great influence on mine. We didn't invite anyone. Margaret and I just wanted to relive one of the paths travelled by my Father when he was a rider. It's not always possible to revisit a place, especially a food establishment that's still in business for at least 50 years that I have personally known. I pray my Father is watching us and is happy that we are partaking in a memorial ride which brought him so much joy.
With Love To My Father- Doyle D Smith
February 1934 to November 2020
Ride Strong Wrench Proud