It didn't take long to know I was going to need new handlebars on the bike. We took a couple of rides and the stock bars were so low that I had to reach downwards to get a grip on them. Soon after my shoulders and back began to hurt from the awkward reach. Something had to be done. I went with the Paul Yaffe monkey bars again because the pullback and width fit me well when they were on my 2012 Street Glide.
Installing 10" Paul Yaffee Handlebars
This time I put the 10" bars on instead of the 12" though. Doing this kept the hand grips behind the fairing which keeps my hands from being exposed to rocks and wind. This will help in winter riding for the cold too. They are still high enough to allow enough pull back to keep from having to reach downwards like the stock bars. And they still look nice too.
Improved Design Makes Install Easier
The process of installation was much easier on the 2015. Harley made marked design improvements that affected many areas of the new bikes. Fortunately, some of those improvements also affected modifications to the bikes making the task easier. Installing the handlebars is an example. They put longer brake lines and hydraulic clutch lines from the master cylinder. Now you don't have to replace those as long as you only put 12" or lower bars on the bike.
They also made a wiring junction on a plate that is mounted under the radio. The wires in this junction are able to be removed by cutting zip ties. Now you can re-route them back towards the handlebars. This allows you to put up to 12" bars on the bike without having to cut and solder extensions. Even the removal of the inner fairing was made easier with the new style of fork mount that allows you to simply lift upwards and then back after removing the turn signals, turn signal bolts, and accessory console. That also makes adjusting them later much easier and quicker without hardly any teardown.
Mechanical Aptitude For Safety
You need to have some mechanical and electrical aptitude to successfully accomplish the install. Even though it's easier to install bars on the 2014 and 2015 models, it's still not going to be for everyone. Safety is the first goal when doing something like this. Not performing even one task correctly could put your life at risk on the road. If there is any hesitation about doing the installation yourself, you probably should let your dealership do it for you.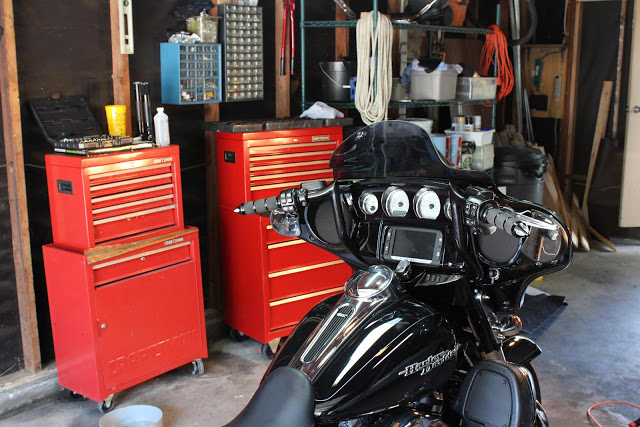 Ride Strong Wrench Proud