As the title states, for me at least this is my yearly downtime. With Christmas, New Years', Birthdays, and chilly weather, I just don't get much riding in. I don't like the cold and won't ride when it's under about 45 degrees. 9 months out of the year my work commute is 110 miles a day. Add in any Chapter events on evenings and weekends and I can quite easily put in 1000 miles a week. This is my first Harley and it will be interesting to see how well the bike holds up mechanically. Everyone in my Chapter tells me the 103 is a great engine and should easily run 100k miles without any major issues. Barring routine maintenance of course. I haven't performed any engine mods outside of the V & H monster rounds. I prefer to ride it stock and avoid some of the issues I've seen that other members have from doing performance upgrades.
Easy On The Motorcycle
I'm easy on the transmission. I don't do burnouts, or grind gears so I am confident the tranny should hold out along with the engine. Our Chapter does a skills day once a month where we can practice obstacles, 20" circles, stopping, weaving, etc. Some of the competition riders are pretty hard on their trannies during this. One of our members burned his tranny out and ended up fusing the clutch plates together during a skills day. Feathering the clutch and revving the engine can definitely cause issues. This type of riding is not the average daily ride and problems related to skills events are to be expected.
My Yamaha V-Star1300
My Yamaha V-Star 1300 had just over 30k miles on it when I traded it in for the Harley and I never had even one breakdown or mechanical issue with it. I would have kept it except for a few things that just bothered me about that bike. The reach was just too far forward and I would have a horrible pain in my shoulder area every day from riding slouched forward. That could have been solved with longer handlebars but there were other things I didn't like. The transmission on the V-Stars is known to be noisy. It had a rattle when in first gear going slow that would sound like it was going to drop out under the bike at any minute. It is a known issue, nothing is wrong with it, but it's just annoying.
The other thing is that it was a 5-speed. It is metric and they do run at higher rpm's than Harley's but damn it would scream at 75mph. If it was a sports bike I wouldn't have been bothered by the high rpm, but it's a CRUISER! When I want to cruise at 75-80 I want to enjoy the rumble of the engine, hear the roar from the exhaust, and feel more of a loping vibration on the grip. Not just hear the engine SCREAM and a thousand tiny needlepoint vibrations through the handlebars the entire time.
Yamaha Slow Speed Surge
The last issue I had with it was a continual surge at low speed. This is also a known issue with no resolution. When moving while holding at a steady speed at any point under 20mph the bike would surge forward and then back off. This would be continual until you rolled on the throttle and put the bike into an accelerated state. It had something to do with the factory computer. Everyone that was able to fix the issue had to install a power commander. I don't believe you should have to buy and install 3rd party components to make the bike run properly unless you are performing mods. It should come off the showroom floor and run correctly in a stock state. My Harley ran just as it should from the day I bought it, with no complaints.
Adding A Battery Tender
Nothing can be more frustrating than a nice weather break after not riding for a couple of weeks than to get geared up and hop on your bike only to find out the battery is dead from the extreme change in temperature. Cold weather is especially hard on batteries. It's even more hard on them if the vehicle is outside instead of garaged. I am fortunate enough to have a garage large enough to accommodate both of my SUVs and both bikes.  Even so, I use a battery tender. I wired an electrical outlet next to where I park my Harley just for the purpose of a tender. The tender comes with leads that you connect to your battery. It has a quick disconnect at the end that you can quickly plug the tender into when you park your bike.  This way you don't have to connect to the battery every time you want to use the tender.
What Does A Battery Tender Do
What does a tender do? Good question if you've never used one! It provides a trickle charge to your battery as your battery drains due to extreme heat or cold while sitting. When the battery is fully charged, the tender stops charging until the battery charge drops again. Then it will trickle charge the battery back to full. This preserves battery life by not allowing it to drain completely, then charge completely, etc. on and on. You can buy them at any cycle shop for around $20 to $30 + dollars. Cycle Gear had them on sale during Black Friday weekend for $9.99!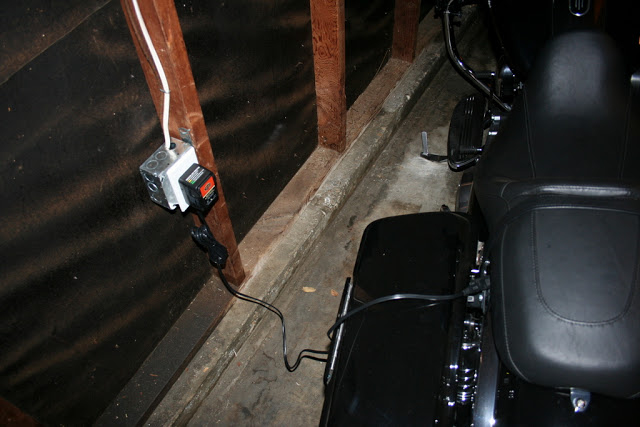 Ride Strong Wrench Proud