Following the two recent videos with articles dealing with windshields, I began getting comments and emails telling me to check out Freedom Shields. I'll be honest, at first, I dismissed the idea having in my head that I settled on my final choice in windshields. This was because of prior positive results. As more comments and emails continued to come in about Freedom Shields I decided to look into them.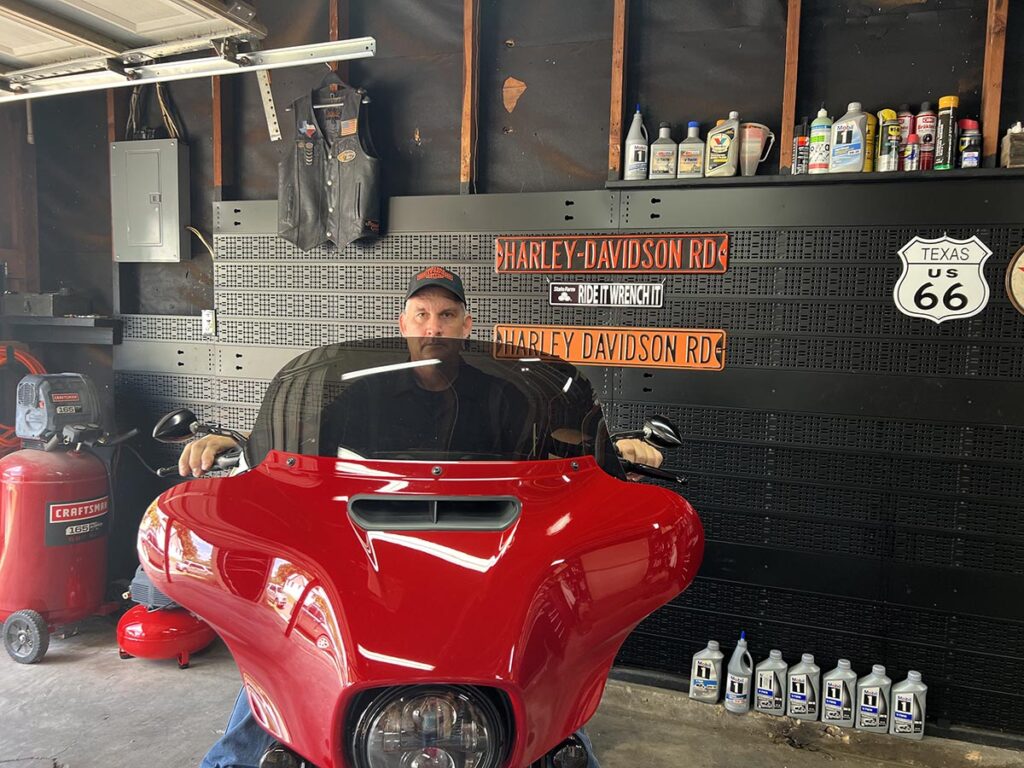 Visiting The Website Impressions
I browsed the Freedom Shield website and was pleasantly surprised. Navigation was easy and the site loads well. They make windshields for all makes and models of Harley Davidson, Indian, and Victory motorcycles. There are also a variety of windshield styles for each to choose from. Another point I really liked was the number of photos of various heights and shades on bikes. That gave me a good idea of what windshield I wanted to put on my bike. They are made in the USA and give a five-year warranty! They even have a page dedicated to windshield care. To go along with all the positivity their name even represents what our beautiful country stands for: Freedom.
Manufacturing Quality
I'm not going to go into manufacturing specifications. The specs are impressive and can be found on their homepage in detail. I do however want to talk about my personal first impressions of the quality of the windshield.
The Fit In The Fairing
As you know from the video and article Issues Installing A Windshield On A Harley Davidson Motorcycle I don't hold back when it comes to a sub-par product. If a product doesn't fit as it should then it shouldn't be on the market. When installing the windshield the first point I noticed is the three mounting holes that set the windshield in place are absolutely perfect. It snaps into place, seats firmly, and has no movement. Once the three bolts are tightened down there is no buckling of the outer fairing at all. It sets perfectly just as an OEM Harley Davidson windshield does. The Freedom Windshield is manufactured exceptionally well.
Incredible Selection Of Sizes
Size choices were one of the most impressive features of Freedom Windshields. For the Street Glide, there are an incredible 12 available sizes! They start at 5" all the way to a monster 16" in increments of 1"! That is impressive. This allows for a tailored height for any rider. They provide a sizing chart for every model of motorcycle they make windshields for so you can be sure to get that perfect fit. If you are still not sure of your choice either email or call them for knowledgeable assistance. They know their product!
Available Shades
As you may know from following my content I am a fan of black windshields. When a manufacturer reaches around the 7" height mark they stop making black windshields. Anything above about 7" can only be found in dark smoke or dark grey if you want something dark. I think this has to do with safety regarding the ability to see through the windshield. Freedom Windshields are no exception to this rule of thumb. They offer four shades which should accommodate just about anyone's needs. You can get clear, light grey, medium grey, and dark grey.
Reasonable Cost
Building out a bike the way you want it can be very expensive. Everyone knows your going to spend a lot on a bike once you begin taking it out of stock configuration. Some name-brand parts are extremely expensive. So much so that I personally try to find alternatives where I'm able to try and keep costs down. Freedom Windshields has kept its pricing very competitive making it feasible for anyone wanting a new windshield to purchase their product.
Exceptional Customer Support
My experience with customer support was phenomenal. They asked me about my height and inseam. From those measurements, they said if I was wearing 32" jeans that a 10" windshield would be correct. That would put the top of the windshield at the tip of my nose leaving 2" for my eyes to see over the top. Initially I ordered a 10" windshield. Shortly thereafter while working on my series about riding ergonomics I found I needed the 9" instead. I installed a rider's backrest and foot pegs and found when I leaned back against the backrest and stretched my feet onto the pegs my eye line of sight lowered an inch. I sent them an email quickly asking if they could change the windshield to a 9" which they accommodated professionally and without hassle. They really care about the riders' needs.
Windshield Instructions
You are encouraged to install the windshield with the plastic film still on initially. Make sure the height is correct and then take it out for a ride to evaluate its performance. This protects the windshield from scratches and allows you to return it if necessary. If you are not satisfied you can then return it for full credit minus shipping charges.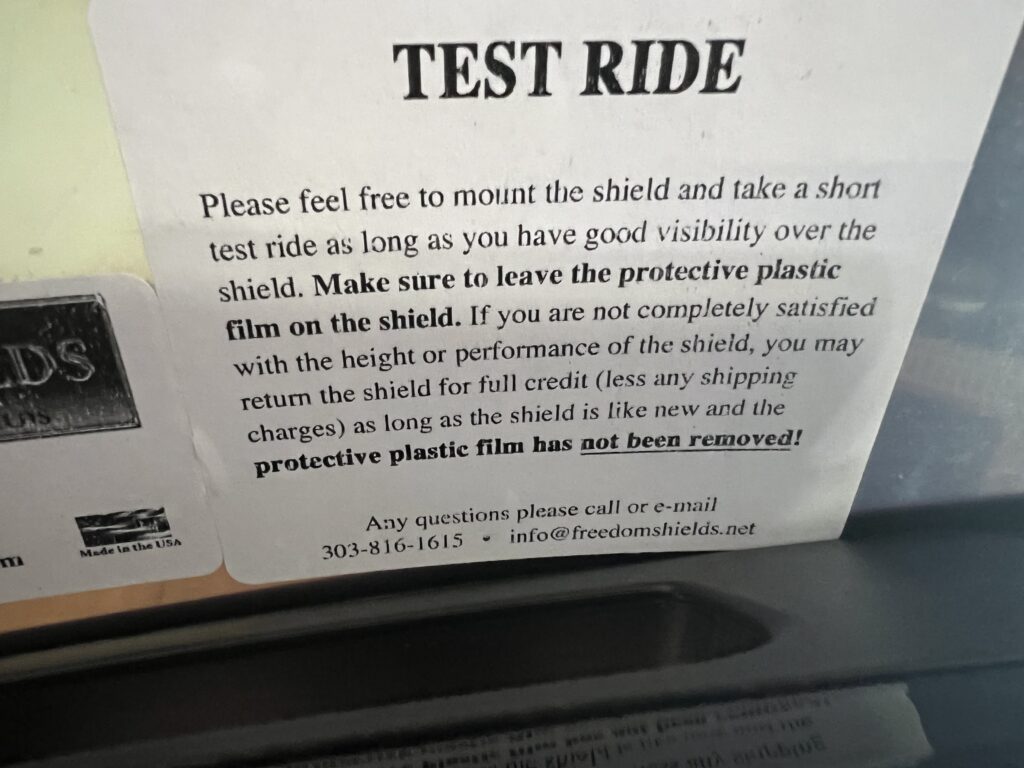 The Ride Experience
I rode with the windshield for about 200 miles to give it a good road test with the plastic film on. Through variations of speed up to 80 mph, the windshield performed admirably. The extra thickness prevented nearly every bit of the windshield shake even at higher speeds. The recurve works well and pushed the ceiling of air over the top of my helmet by about 3 inches. That kept all but a soft breeze off my face and prevented headshake from the wind. Keep in mind part of that result was from acquiring the appropriate height of the windshield. Freedom Windshields gave me advice on height based on my own measurements of eyesight and the inseam of my jeans.
An Unexpected Benefit Of The Touring Windshield
Another unexpected benefit of the touring windshield was the added extension on the outer edge. That extension pushed the wind around my hands. With the 12" handlebars my hands are completely exposed to wind, cold, and flying objects. By directing the air outside of the hand grip my hands don't suffer from complete exposure.
Reduced Wind Turbulence And Noise
I also noticed while riding with the Freedom Windshield there was far less turbulence which made for a quieter ride. I was able to hear my stereo better and didn't suffer as much from the rush and roar of wind in my ears. Not only does that allow you to hear better it will help to prevent long-term damage to the ear drum from the continuous noise.
Reduced wind on my face also means my eyes don't suffer. I have on many occasions experienced issues with my eyes drying out due to excessive wind on my face. Burning and irritation could sometimes last for days after a long ride. The Freedom Windshield greatly reduces the wind drying your eyes out by deflecting the air around your head. Constant wind on your face can also cause your glasses to shake. This can be quite a distraction during a long day of riding and the windshield greatly reduces the shake of my glasses.
Stability At Various Speeds
A fork-mounted fairing can be more susceptible to front-end wobble from poor aerodynamics of windshield design. The Freedom Windshield performed harmoniously with the batwing fairing in regard to airflow. I never experienced any excessive tug or push on the fairing which can cause stability or handling issues. The windshield deflects the wind while allowing the motorcycle to perform as designed.
Just Buy One
I honestly have had a completely positive experience with Freedom Windshields. This company takes pride in quality manufacturing, customer support, and rider satisfaction. The touring windshield performed beyond expectations and immensely improved ride quality. I would encourage anyone wanting a new windshield to try a Freedom Windshield. You won't be disappointed.
Ride Strong Wrench Proud