As mentioned previously, there was some leakage occurring around the gear shift lever that had to be dealt with. I ordered the seals and they arrived promptly. The chain cover portion of the tranny was already off so I still had to take the outer transmission cover off to get to the seals. Using an impact wrench, I was easily able to remove the chain sprocket and then take out the multitude of Allen bolts to get the cover off.
I performed a visual inspection of the components on the tranny and everything looked great.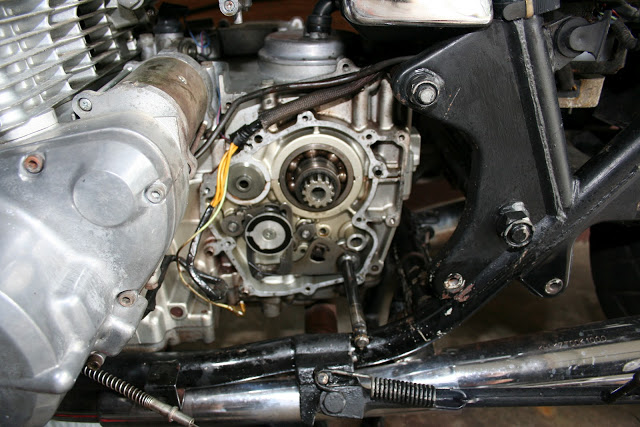 Main Seal Leak
Upon inspection of the cover, I found the leaking culprit! All along I had assumed it was the shift lever seal. That seal was actually in very good condition. It was the main seal instead! And oh how bad it was. Fortunately, I had ordered seals to replace all of them. If your gonna tear it down, replace them all while you're at it. Below is a visual of the torn main seal and the clutch seal too. The bad ones are on the left, the new ones are on the right.
I cleaned the covers well and put in the new seals. Put the new transmission cover gasket on and reinstalled everything.
Once it was all back together I put the oil back in, adjusted the clutch, and took it for a ride. I got about a half-mile down the road, pulled the clutch in to shift into 3rd......and......SNAP!  NO CLUTCH!!! The cable broke right at the clutch lever. So I idled it back into the garage, removed the outer cover AGAIN, and removed the cable. I was able to order a new one from Old Bike Barn for $17. Not bad at all. Until the cable broke, the bike ran well. Until the cable arrives I wont be doing anything else to the Kaw.  I still have to replace the fork seals but want to finish this work completely first.
Ride Strong Wrench Proud