Motorcycle rider backrests can make a huge difference in your comfort level while riding. This is especially helpful to those riders that spend a lot of time on the road. Whether it's a long daily commute for work or cross-country touring a rider's backrest is a must.
Riding Without A Backrest
I rode for many years without using a backrest. I've done cross-country and multi-day rides without one. I found myself slouching heavily while riding after many hours in the saddle. This positioning for long periods of time led to the pains I would have at the end of the day. There was always the same issue after a long day of riding. Pain in my lower back and shoulders. The pain caused fatigue and also made it more difficult to sleep at night. I would wake up unrested and sore. Then get back on the bike and repeat for another day.
Age And Comfort
Age has definitely become a factor for improving my comfort level while riding. In my younger years, I was much stronger and could push through discomfort and recover much quicker. I would see riders' backrests on bikes but didn't like the way they looked. I was more concerned with style than comfort.
As time went on and the riding pains and recovery became more frequent I knew changes had to be made. One of the primary changes was installing a rider's backrest. I needed to be able to enjoy my passion for riding without suffering because of style.
What A Riders Backrest Provides
Have you ever tried sitting on a stool for hours? I'm not talking about at a bar where you can put your arms on the bar for support. I am talking about sitting on a stool without a backrest, upright, without anything to lean on. It becomes very difficult and uncomfortable after a short time. That is the same effect that riding a touring or cruiser motorcycle has on your body. Then you have to add in keeping control of the motorcycle safely while becoming increasingly tired and sore.
A rider's backrest eases that difficulty by giving you something to lean back against. It is remarkable how much difference it makes to support your back without having to physically keep your upright position.
My wife had back surgery in 2014. She told her doctor she rode a motorcycle out of fear that the surgery would cause her to have to give it up. Her doctor at Texas Back Institute said she would be fine but said to add a backrest to the motorcycle. He had many riders during his career and recommended a backrest because it helps keep the back properly aligned. A rider's backrest can help prevent long-term back and spinal issues associated with riding.
Riders' Backrest Eases Pain And Fatigue
By not having to use muscles in your back and shoulders to maintain an upright position you automatically rest the muscles involved. Letting yourself lean naturally against the backrest allows your body to relax. It also keeps your back properly aligned. When relaxed, your awareness increases as does your comfort level. You will be able to ride longer and safer because you're not becoming fatigued. This will lead to better sleep and recovery at the end of the day. That in turn leads to riding strong and safer the following day. You'll also find riding becomes more enjoyable.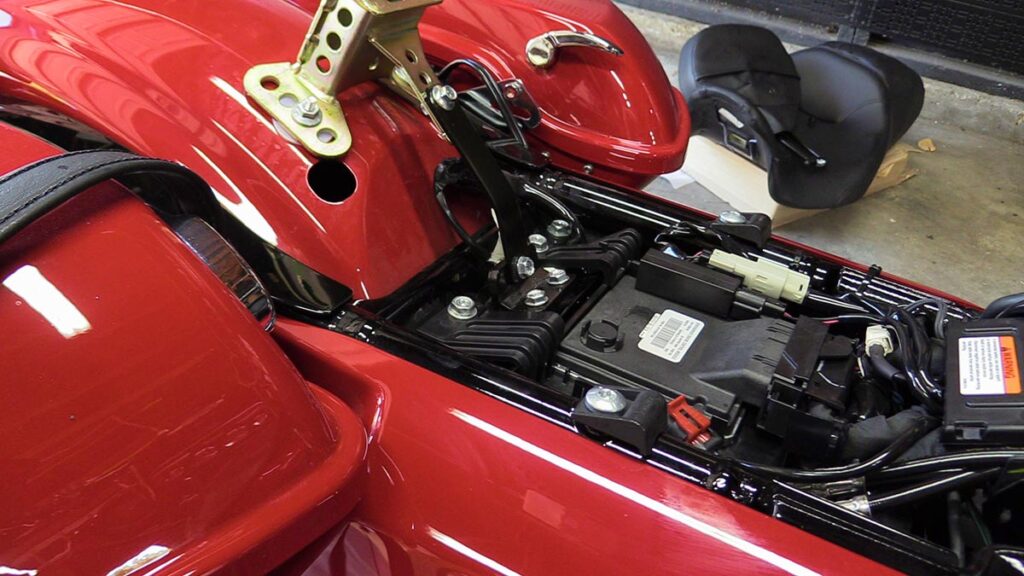 Installing A Riders Backrest
Installation is quite simple for any motorcycle. With a few basic tools, most people will be able to install one. The adjustment is where it can get a bit difficult. You will need to consider the height setting, how far forward or backward it needs to be, and the tilt. It can take some trial and error to get the comfort level dialed in. You might think it feels good initially but find after riding for a couple of hours that you need to make adjustments again.
Rider Backrest And Mounting Hardware
Harley and some other manufacturers make a mounting bracket with a lever that attaches within reach of the rider. You simply pull the lever which allows you to tilt the seat back into a comfortable position. This item will raise the cost but gives you convenient adjustability on the fly. Other backrest hardware work just as well but makes it more difficult to adjust. You might have to remove the seat and a few bolts to make adjustments in regard to how far forward and backward it sits. Once it is set to your liking though you won't need to worry about it.
Types Of Rider Backrests
There are a lot of rider backrests available through multiple sources. Twice between different motorcycles I have tried low-cost riders backrests from Amazon sellers. Both times I was disappointed. One of them was a tiny little pad that gave little to no support. The next time the backrest was supposed to be smooth material and came textured. It also came with mounting hardware that did not work for my year of the motorcycle even though it stated it would. We did get one for Margarets Softail Deluxe from an Amazon seller that worked perfectly though.
In the end, my backrests always ended up coming from Harley Davidson. Though expensive they are high quality. The mounting hardware is always correct. I can also get real leather that matches the leather Harley seat. Shopping around is not a bad idea though. There are some good aftermarket products out there.
Ride Strong Wrench Proud