Changing out a motorcycle windshield can be difficult for a variety of reasons. Manufacturers don't always make the information clear about their products. That often leaves riders confused or ordering a windshield that doesn't perform the way they expected.
Windshield Height
There are many opinions about how high a windshield should be. The general opinion seems to be that your eyesight should rest about two inches above the top of the windshield. The height would deflect wind and things like bugs over the top of your head without hindering forward visibility. I have seen some riders with windshields so high they were looking through the plexiglass full time. My concern with that is when it rains you won't be able to see through it. My other concern would be distortions the plastic caused while looking through it. That might be hard on the eyes after a short time. The following picture was taken from Harley Davidson which shows the heights of their windshields. Stock Harley's with a batwing fairing come with a low-profile windshield.
How To Determine What Height You Need
You will need to sit on your motorcycle. Lift it into an upright position and look straight ahead. There are a couple of ways to determine the height. One way is to use a piece of cardboard to simulate a windshield. Have someone hold it against your current windshield and raise it to the height you are comfortable with. Once it's positioned where you want it, measure from the middle windshield screw to the top of the cardboard. That will give you the height.
Another method would be to use a long level. While sitting on the motorcycle put the level between your eyes. Have someone adjust the level until the bubble shows centered. While holding it in the level position measure from the center windshield screw to the bottom of the level. That will give you the eye-level point to adjust either higher or lower depending on your preference.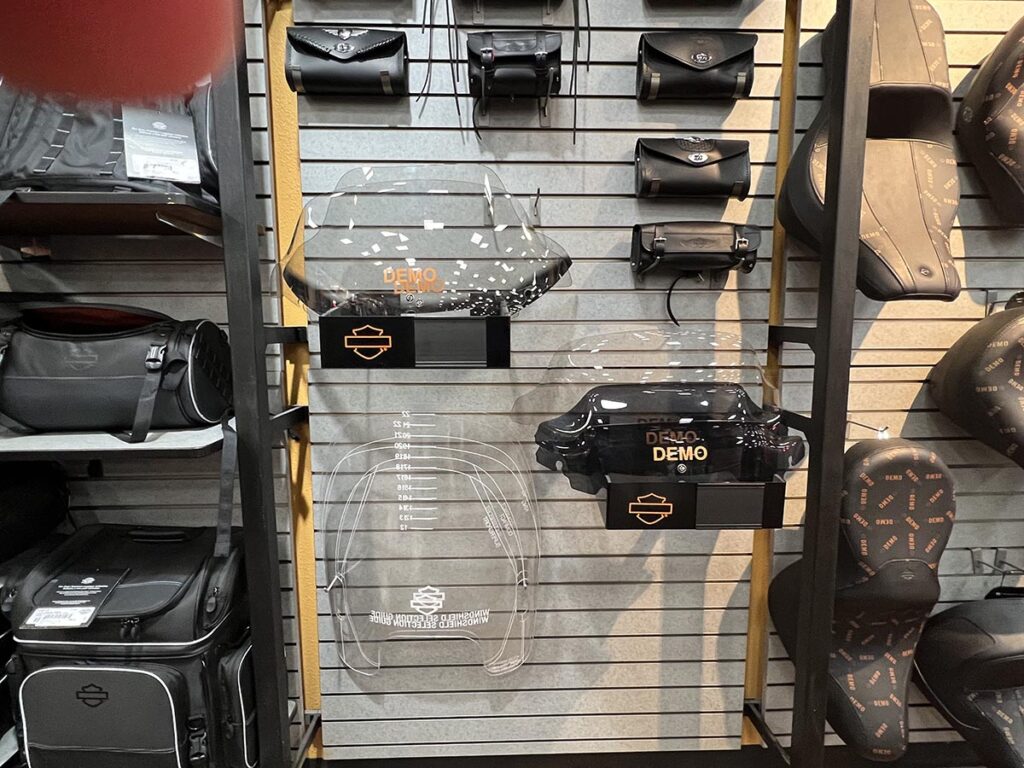 A third method is to go to your local Harley Davidson dealership. They have demo windshields that you can put on your motorcycle. They let you ride with it for a couple of hours to test it out. After trying a couple of heights and styles you will have a good idea of the type and size you need.
Determining Windshield Manufacturer's Dimensions
Now comes the next issue. Windshield specifications vary between manufacturers. Typically they will measure from the center mount hole in the windshield to the top. This will give you a good idea of how high it will go but is not always accurate. Flare windshields for instance are angled heavily backward toward the rider. This is how they provide a great amount of wind deflection. The problem is if the windshield measures 9" from the center hole to the top, that is not an accurate measurement of the actual height above the top of the fairing. Klock Werks has a great diagram of the height variations of flare windshields.
Other types of windshields such as the Round Batwing will be more accurate because they sit upright off the fairing.
Types Of Windshields
There is a fairly large selection of styles available. Here is a list of some available styles of windshields. Keep in mind some of these names are crossovers between styles and may mean different things among manufacturers. It can be confusing because there really is no standard for identification.
Flare
Round Batwing
Wave
Stock Upright with varied heights
Wind Splitter
Amount Of Wind Deflection
All types of windshields will provide some wind deflection. They may not perform the same though. Flare windshields are more aerodynamic and will cut through the air without causing much wind buffeting. These windshields are great when it comes to stabilizing the motorcycle. Especially during a windy day because it will direct the air around the windshield and the rider. Some riders don't like the way they look though.
Stock tall windshields can feel as though you're pushing a piece of plywood in front of the motorcycle. The taller they are the more resistance you will feel. They simply don't direct the air well. This can also cause some instability through the handlebars on an exceptionally windy day. This could cause the motorcycle to feel less stable and cause you to have to control the bike more to keep it straight. When this happens you can become fatigued over time.
They come in a slew of varieties in between. Wave, Semi-flare, and Windsplitter windshields will fall somewhere in styling between the above-mentioned. They might not be as aerodynamic as a flare windshield but they will deflect a portion of the wind so you're not fighting the air as much. It really comes down to personal preference.
Clear, Smoked, Tinted, Or Blacked Out Windshields
Clear windshields will allow you to see through them. However, if you have a wave-style windshield or similar type you will get distortions. The road ahead can look wavey as you roll along and cause difficulties in determining road conditions. This is a good reason to get a windshield that you can look over. When you use the smoked or tinted styles even without distortions they can be difficult to see through. If you ride at night you may not have any visibility through them. This leads to the blacked-out styles. If using these, don't expect to see through them at any time. You will need to get an accurate height that will allow you to see over the top.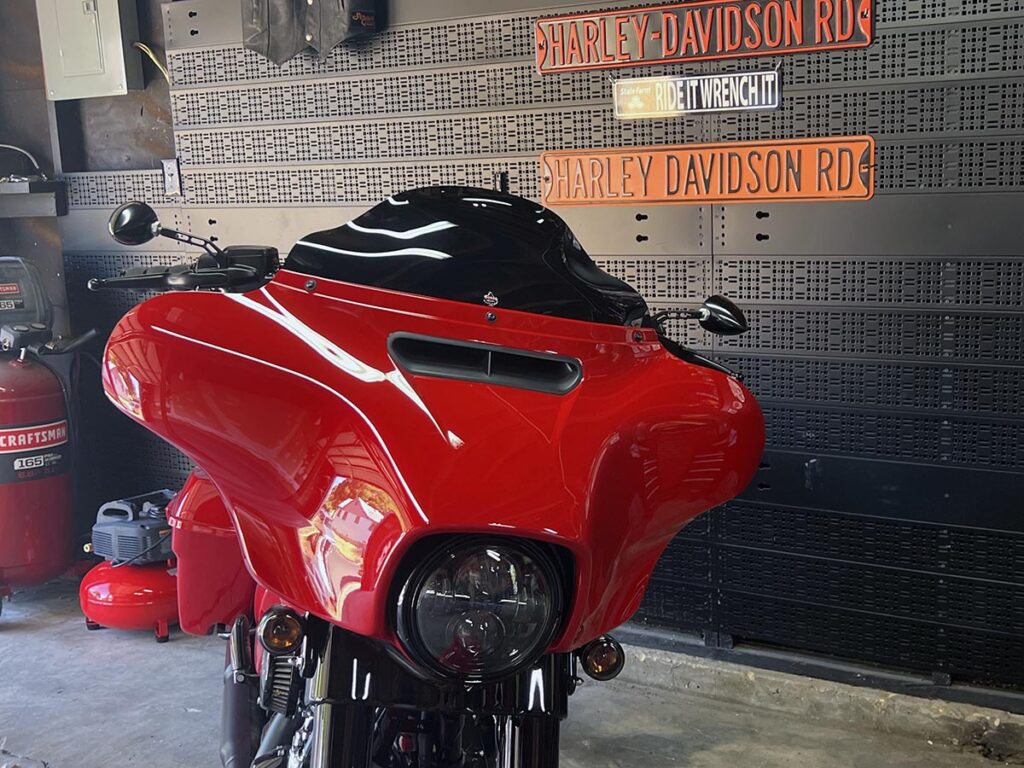 Safety Concerns Of Windshields
Safety can become a concern with some windshields. When you cannot see over it or through it, there is a safety issue. If you get distortions it could become a safety issue. While riding in the rain and you have a windshield that is so high your looking through it full time, visibility becomes the issue. Some windshields can cause buffeting which can loosen your control over the motorcycle. During windy days I have had my handlebars pulled in different directions as the wind hit the windshield. It made control more difficult, thus dangerous.
Windshields For Style Vs Performance
In the end, you will have to determine how you want the windshield to perform. Then couple that with the delicate balance of creating the visual appearance it provides to the motorcycle. You may not take long rides and want a specific windshield solely for the style it will provide. If you are a long-distance rider the comfort a windshield provides might be more important than the way it makes your motorcycle look. These decisions are some of the exciting decisions when purchasing parts for your motorcycle.
Ride Strong Wrench Proud