I wanted to touch on the topic of mirror plugs briefly. Mirror plugs fill the holes left behind on the inner fairing after removing the stock Harley Davidson mirrors. Using them can give your motorcycle a clean and polished look if you remove the stock mirrors.
Parts Used
Kustom Cycle Parts Mirror Plugs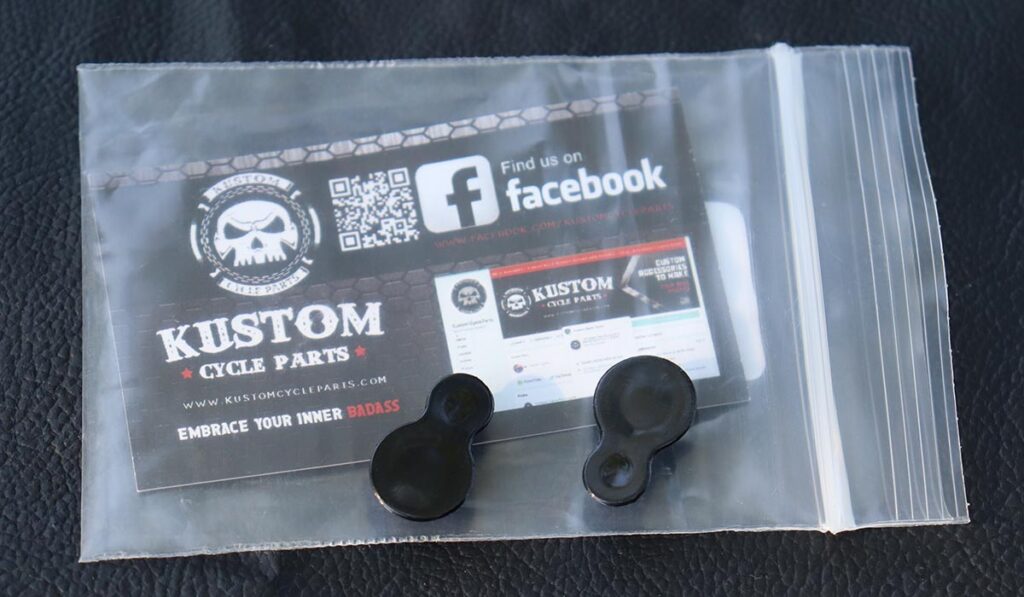 Different Styles Of Mirror Plugs
There are a variety of mirror plug styles available. You can find them with images of skulls, pole dancing girls, crosses, and plain without an image. Whatever you choose can enhance the appearance of your motorcycle. The stock mirrors are bulky, and if they are not being used, it can be nice to remove them. The mirrors will be obstructed and unusable if you install 10" or 12" handlebars on your motorcycle.
Installing The Mirror Plugs
Installation is quite easy. First, remove the windshield. Next, remove the outer fairing. While taking the outer fairing off, disconnect the headlamp. You will find only one nut holds each stock mirror in place. There is a spacer under the nut. Lastly, while holding the nut, remove the mirror. Installing the mirror plug is simple. Most of them simply snap into the hole with an easy push. Put everything back together in reverse order, and you are finished.
Ring Marks From The Stock Mirrors
You will probably find ring marks from the stock mirrors. I had them on both sides. If you have a painted inner fairing, it is possible to buff the ring marks if they're not too deep. I used black wax because of the gloss black inner fairing painted surface, which worked fairly well. You can still see the rings if you look closely, though. This is, unfortunately, something you may have to settle with. Harley Davidson needs to improve upon the surface-to-surface issue on the stock mirrors. I am hoping the ring marks will disappear after a couple more waxes with the black wax.
Ride Strong Wrench Proud