It's time I addressed the issue of tools & torque specifications. What issue? Address what you may be asking? Good questions! With over 100 videos uploaded and the vast majority of those relating directly to performing some kind of upgrade, customization, maintenance or repairs on motorcycles two questions surface with some frequency. These are two questions which should not be asked. The two questions I am referring to are: what size socket do you use for (bolt, nut, part here), and what are the torque specifications for (bolt, nut, part here).
Why Would You Not Use A Service Manual?
The first question I want to ask back is: "why are you working on your bike without a service manual?" How did I know you weren't using a service manual? If you were referring to a service manual for your specific brand, make, model, and year of motorcycle you would have the torque specifications at the flip of a page and would not be asking for those values. I am quite adamant in my videos about the use of a service manual if you're going to work on your bike.
When I get this question it is not one I will answer. I would also encourage other viewers not to answer this question either. There are to many variables on torque specifications between brands, makes, models, and even years of bikes. It's quite possible the person asking is referring to a completely different motorcycle.
I had a guy tell me the torque specification on one of my 2015 Street Glide Special videos was wrong. He said the torque value listed in his service manual was different for his 2008 Road King. Seriously? Well, duh, yeah, different year, make of bike, hell, even a different size of the engine! Of course, it's going to be different! I guess he thinks his bike references the final word on torque values worldwide for each and every motorcycle….
Torque Validation
To validate this argument I want to refer to a critical drive component on the motorcycle: the Compensating Sprocket. The pictures below will help you understand why I don't give torque specifications when asked. The first service manual picture is of the final torque of the compensating sprocket bolt on a 2012 Street Glide with a 103cu engine. 140 ft-lbs.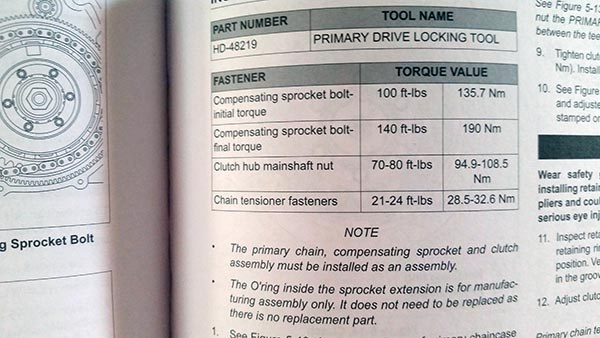 The next service manual picture is of the final torque for the compensating sprocket bolt on a 2015 Street Glide Special with a 103cu engine: 175 ft-lbs. There is a 35 ft-lbs difference between the two which is substantial.
This is a perfect example on a critical drive component as to why you should not be asking about torque specifications. You should be using a service manual to obtain the correct values for the motorcycle you are working on.
Why Would You Ask About Tool Sizes?
The other question I have issues over is what size of socket or wrench to use. It never ceases to amaze me on how many people seem to think that every nut and bolt on every model and year of bike are the same. Manufacturers change sizes quite frequently. When the question comes up about socket sizes my immediate thought is "are they even working on the same make and year of bike?"
Mechanical Aptitude?
My next concern at that question is: "are they even capable of properly using tools if they can't even figure out what size socket or wrench they need for a nut or bolt?" Not everyone has a mechanical aptitude. I also understand that a lot of people would like to work on their bikes, and that's great. You have to understand there are different levels of mechanical aptitude. While one person might have no issue pulling a primary, another person may be apprehensive about changing brake pads.
Lacking The Understanding Of How To Use Tools
There is nothing wrong with different aptitude levels and how much someone is willing to wrench on their bike. There is an issue if they cannot determine the size of the socket or wrench they will need. This demonstrates a serious lack of understanding basic tool use and assessment ability. If someone cannot determine the bare basics of socket and wrench sizes they shouldn't be wrenching on their bike. Not being able to utilize tools properly could lead to serious injury or death if nuts and bolts are not secured correctly with the proper tool size and torqued to specification.
The Bottom Line
The bottom line is this: If you are wanting to wrench on your bike get a service manual for your specific make, year, and model. Use my videos as a visual reference before or as your working on your bike. Refer to the torque values from your service manual as necessary. Get the proper tools and know how to use them. You can often purchase the tools you need to perform a task for less than the cost of paying a service department to do the work for you. Then you have the tools for repeating the same task later and for any other work you want to perform.
Ride Strong Wrench Proud