Out we went full of excitement and wonder about what we might see through the day. We knew it was going to be a long hot day. Temperatures were in the forecast at near 100 degrees. But we were on a mission. Actually a dual-purpose mission. The first was to visit Horny Toad Harley Davidson in Temple, TX.
The second part of our mission was to try out the new Viking saddlebags we installed on Margaret's bike last week. We needed to test the bags on a ride and the new quick-release locking system on a long day of riding before we decide to take a multi-day ride.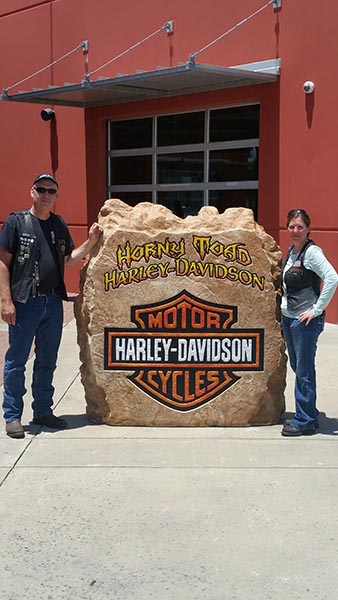 Horny Toad Harley Davidson
The first stop for our planned day was Horny Toad Harley Davidson. We pulled in excited to finally visit the place. It wasn't long before we were completely underwhelmed. They have a kewl theme, horned toads all over the place, and shirts with horned toads riding Harleys. That initial excitement of the theme can only be played so long and you cant ride that road very far. It was a Saturday, and for a Saturday the dealership was void of activity. There was nothing happening, nothing. You might have even been under the impression they were closed if it were not for the bikes on sale outside of the store.
Every dealership we have ever visited on a Saturday is usually "hopping" with activity. Planned rides, a raffle, a band, riders meeting up, riders hanging out, local HOG members sitting around, something. Most dealerships we've been to are a hub of activity on Saturdays for riders for various reasons. Maybe it was the heat? For whatever reason, it seemed tiresome as if they just wanted to close shop for the day. We purchased our poker chip and left.
The Back Porch Drafthouse
The next stop was the Back Porch Drafthouse in Temple, TX. Here our stopping point enthusiasm geared up. What a great place. You never know what you're going to get when visiting a place for the first time. The food was phenomenal. The Back Porch Drafthouse far exceeded our expectations. Margaret had one of the best french dip sandwiches ever (Okie Delphia French Dip), and my Cowboy Up Burger was at the top of our burger restaurant list. The sauces they make to season the food is far beyond the mainstream and brings a richness to the dishes that are unparalleled.
Of course, I had to try a brew, it is a draft house after all. First I had a Samuel Adams Summer Ale from the tap, great beer, and it was super cold which was nice since you don't always get a beer on tap that is ice cold. Then I tried the Founders Sumatra Mountain Brown. This was a bottled beer and again, I was not disappointed (except for the price). We'll be back!
Fuel Up At Buc-ee's
It was gas-up time by now and just a few miles up the road was a Buc-ee's! I have only been to a Buc-ee's 1 time before today. That was 3 years ago on our trip home from Washington, DC. So I wanted to stop here for the experience. It's quite sensational with something like 80 pumps or so! We'll be back!
Waco Harley Davidson
Next, we headed to Waco Harley Davidson. We wanted to stop in and say hello to all the great staff we had spent time with a couple of weeks back. They left a great impression on us. It was also 96 degrees and the dealership made for a good stop to cool down a bit along the ride home. Waco HD was hopping! Bikes were coming and going the entire time we were there, it was loud inside with the excitement of the staff who were energetic.
They gave the impression of wanting to be there and have a good time. A club was meeting up to either ride or returning from a ride. Again, we had a great time. Kudos to Waco HD and Thank You for making us feel welcome, again! We'll be back!
Heading Home
Now it was time to head home. We had been out for almost 9 hours and still had 2 hours or more to get home by taking some nice back roads. We left Waco and headed on TX-6 to Valley Mills, TX where we took FM-56 almost all the way to Fort Worth, TX. It took longer but the ride is worth it. I enjoy writing about what happens while we're out on the bikes. The experiences that we had today both good and bad will stay with us forever. People we meet, build friendships with, and share stories with are the highlight of our rides. These continued encounters are what living is about and why we enjoy riding so much.
Ride Strong Wrench Proud