5 years ago, Margaret purchased a set of Viking Saddlebags for her Softail Deluxe. I remember the day we performed the installation, and it was very hot, being mid-August in Texas. We had to make some modifications to the bag hardware for them to work on her bike. Sometimes you have to be creative when fitting items to your bike if they were not specifically designed for it. We knew she needed storage space because we had plans for taking some cross-country rides.
Harley Davidson Saddlebags For Softails
The Harley saddlebags for the Softail Deluxe were awful. They were just about big enough to hold one shoe in each, outrageously expensive, being well over $600. The Harley bags opened from the side so everything would fall out when you opened them. They were an absolutely horrible failure on Harley's part to provide feasible options for usable bags on Softail Models.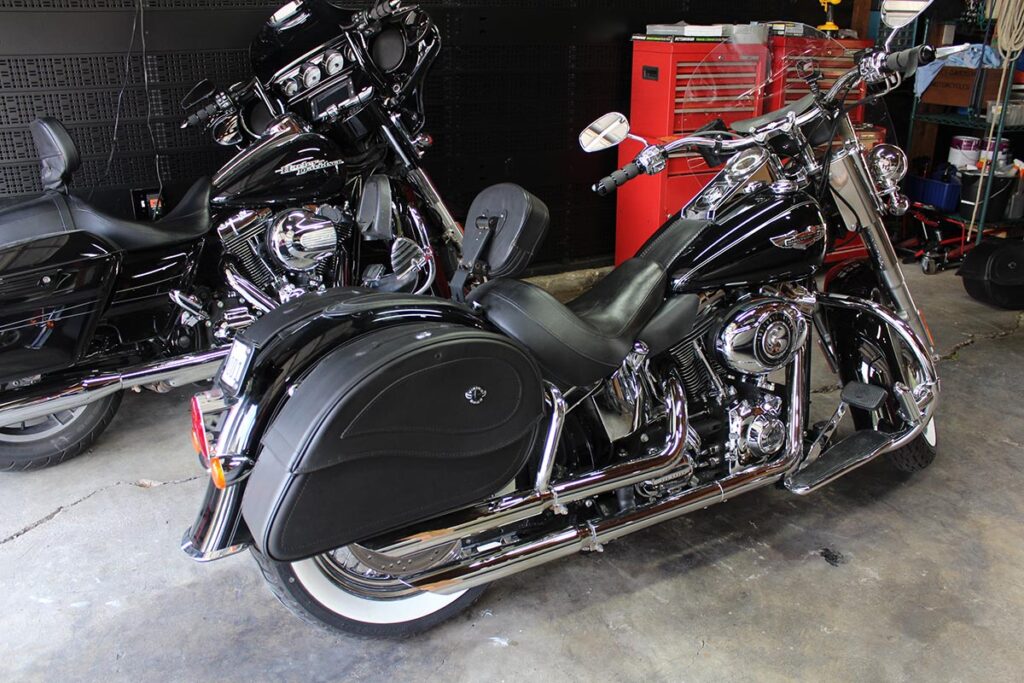 The First Set Of Viking Motorcycle Saddlebags
Then we found Viking bags. We took some measurements of available space on her Softail Deluxe and found there was plenty of room for a set of sizable bags. Viking had detailed measurements on their site for all of their bags. From that, we were able to figure out which ones would fit and a style that Margaret liked. At that time, there were simply no good options for a quick release system, so we hard mounted the bags.
They were a great fit and have survived rainstorms on the Blue Ridge Parkway, snow in the mountains of Colorado, extreme heat in the desert of Utah, and below-freezing temperatures through winter riding in Texas. They have made it almost 40K miles in total across 14 states and are still in fabulous condition. The Viking bags are present on Margaret's bike in all of our riding videos and shown in many weather conditions.
New Viking Saddlebag Features
So why are we changing them out if they have been such good saddlebags and are still in great condition? Since the time we purchased her bags, Viking has made significant improvements to their products. The first improvement was putting key locks as an added security measure on them. The original model had a loop on the flap at the back where you could put a very small lock. You could still lift the front of the bag and reach inside to pull stuff out. Now they lock it in the middle at the top with a key.
They also reinforced the bag's inner wall, making it even stronger than it was before. Viking added large velcro strips under both front and rear flaps to help prevent outward bowing over time from the elements. Now they have a fantastic quick release system that you can quickly remove the bags with a turn of the key. This is especially helpful for washing those white walls and any maintenance or repairs that need to be done on the bike's rear.
Ride Strong Wrench Proud