Mirrors on your motorcycle can be a very personal item. When you attend motorcycle shows the mirrors on those custom bikes are customized as much as any other part. Mirrors come in many shapes, sizes, and prices. It can be difficult to choose one that you like.
Parts Used
Joker Machine Viewtech V Teardrop Mirror 03011BLK
Kustom Cycle Parts Mirror Plugs
Reasons For Changing Mirrors
There are a lot of reasons for changing mirrors. Mostly it's done for a particular style the rider is trying to achieve. Sometimes it could be for better visibility. Some mirrors are very small and don't appeal to a rider because of the lack of visibility. Another reason to change out the mirrors would be from a handlebar install.
On a stock Harley Davidson Street Glide, the handlebars are low. This allows you to see through the stock mirrors without a problem. Once you change the handlebars to 10" or 12" though those mirrors are blocked and no longer useful. There are mirror relocation kits that allow you to move the stock mirrors up or down. They look horrible though. There are also mirrors that stick out further from the fairing that might work. Typically you will have to go with a handlebar-mounted mirror.
Mirrors By Law
The first reason for mirrors should be a necessity. All states have some level of law that mandates a rear view mirror. They may only require one mirror. I'm not sure about the enforcement of having mirrors or not.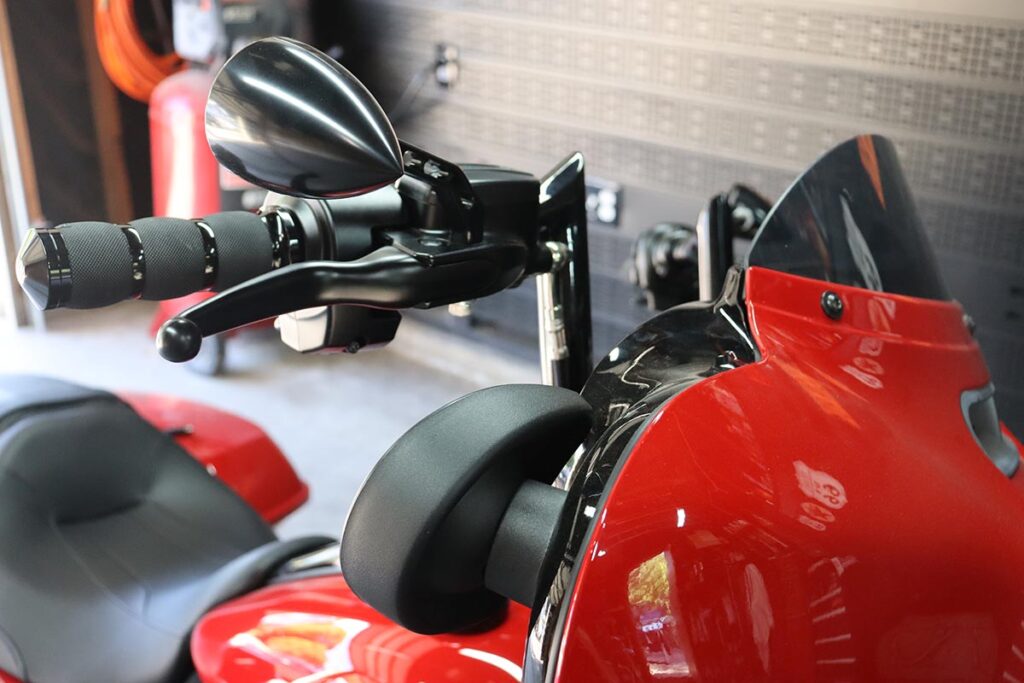 Mirrors For Style
Style is quite important to most motorcyclists. For the most part, motorcycling is a hobby, not a primary form of transportation. Riders will get their motorcycle out during their free time. Because of the hobbyist nature of motorcycling riders want a personalized style to differentiate their motorcycle from others. Because of the prominent position of the mirrors residing in the handlebar area, mirrors are a major part of that stylization.
If you start an in-depth search on mirrors it becomes surprising how many are take-offs from other brands. After a couple of hours, you will begin to realize there isn't much in the line of custom mirrors. The same styles begin to reappear in the guise of another brand. If you dig deep enough though you will find some truly unique mirrors that you won't find on other motorcycles often. The search for those products is part of the excitement of adding the personal touch to your ride.
Mirrors For Safety
For the obvious reason of being able to know your surroundings mirrors provide a measure of safety. You need to be able to see behind you. A quick glance in the mirror before switching lanes could save your life. Keeping track of riders behind you in group rides is important. Mirrors provide an amount of safety to those riders behind you. If they break down or get into an accident you want to be able to see what's going on behind you. You need to have awareness of the possibility of emergency vehicles coming behind you to move over so they can proceed unimpeded. Lastly, cager danger is ever-present from violent antagonistic tailgaters to speeders. I want to know if one of these careless people is coming up behind me. A mirror helps me to do so.
Mirror Plugs
If you install mirrors that mount to your handlebar area you may want to remove the stock mirrors from the inner fairing. You could leave the stock mirrors but they won't be functional if you have 10" or 12" handlebars. Removing them can give a polished and finished look to the motorcycle. You will need to plug the holes if you remove them. There are a variety of mirror plugs available online and they are not expensive.
Ride Strong Wrench Proud